Sugar Land Remodeling for Homeowners and Businesses
HomeBase Repairs has performed many Sugar Land home remodels and repairs for both homeowners and businesses. Some of our suppliers are here, such as Sam's Flooring Gallery, Floor & Decor, and Sugar Land Rain Gutters. We rehabbed several houses here for investors, including some of our own investment "flips". HBR wants to be your Sugarland Home Remodeling Contractor.
The first set of pictures below, starting with the kitchen, is a flip we did in Woodstream of Sugar Land. More before and after pictures and video can be seen of this job and other remodels in the Whole House Remodeling page. 
The next set of photos display the final product of a Sugar Land bathroom water closet that previously had little space to work in. Ultimately, a walk-in shower replaced a fiberglass bathtub. A custom frameless shower door with chrome trim gave the finishing touch to the tiled area with bench seat and soap niche.
Allow HBR to perform your next remodel no matter the space limitations.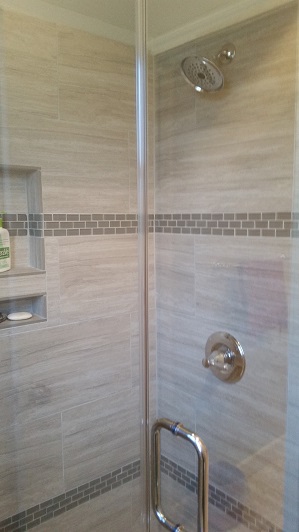 The final video tells the story of a Sugar Land homeowner who hired us to remove the previous owner's pet odor and damage from their bathroom. Therefore sheetrock, vinyl flooring, cabinets and door were in need of replacing. Remodeling features include wood-effect tile floor, newly built cabinets, granite countertop vanity, two rectangle sinks, and two new light fixtures - each placed over an oval mirror, which replaced the one large mirror. The walk-in shower was left intact.
What others are saying...
"Manuel saved my marriage!  He was able to come in and do the repairs that my husband was just not getting around to."
- Kris, Sugar Land
"Manuel researched the specific needs of new equipment I was having installed (i.e. - leaded insulation/wall board) and made the information gathering process very easy."
~ Dyer Clinic, Sugar Land, TX
"Manuel made sure that the areas were cleaned up and any tools used for the repair were put away.  Safety was a top priority and we were very happy with his work."
~ Leslie and Jim, Sugar Land, TX